BERNETTE 05 ACADEMY (BLUE)

Equipped with a wide range of functions, 30 exclusive stitches and a fast motor, the b05 ACADEMY lets you quickly realize your wildest ideas. For tricky projects that require a slower pace, you can reduce the maximum sewing speed.


BERNETTE 05 CRAFTER (ORANGE)

The rugged bernette 05 CRAFTER is the sewing machine for creative allrounders. From beautiful clothes to trendy accessories, you can finish your projects in no time at all.


BERNETTE 33

Affordable Sewing machine for beginners. It's simple operation makes it easier to lear the basics of sewing.


BERNETTE 35

The inexpensive sewing machine for beginners, including 23 stitches and seven presser feet.


BERNETTE 37

An affordable sewing machine with a wide range of features and impressive stitch quality


BERNETTE 38

The bernette 38 is the top model in the bernette 30 series. This computerised sewing machine offers a wide range of functions at an affordable price leaving nothing to be desired.


BERNETTE 42 FUNLOCK (coverstitch)

The bernette 42 FUNLOCK is a coverstitch machine featuring a total of 3 different coverstitches with a width of 2.8 and 5.6 mm and a chain stitch.


BERNETTE 48 FUNLOCK (combo)

The bernette 48 FUNLOCK is a combination of an overlocker and a coverstitch machine. It has a total of 23 stitches: 15 overlock stitches, 3 coverstitches, 4 combo stitches and 1 chain stitch.


BERNETTE 62 AIRLOCK

The bernette 62 AIRLOCK is the coverstitch machine of the b60 series. The automatic air threader makes threading the looper thread child's play. The machine has 4 coverstitches and 3 chainstitches and can be used for countless applications and fabrics.


BERNETTE 64 AIRLOCK

This serger / overlocker with an air threader to automatically thread the loopers. It has never been so easy to get started!


BERNETTE 68 AIRLOCK

The bernette 68 is a combo machine with overlock / serger, cover-, chain- and combo stitches. Featuring an air threader for easy threading of looper threads, 5" of space to the right of the needle for comfortable sewing of large projects.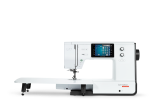 BERNETTE 77

The b77 focuses exclusively on sewing and quilting. Get creative and sew your own clothes, quilts, or accessories. Discover new stitches and sewing techniques with this easy-to-use computerized sewing machine.


BERNETTE 79

The b79 is our top of the line bernette model. It offers everything a creator needs in this two-in-one b79 machine. The b79 combines all the sewing functions of the b77 with the embroidery perks of the b70 DECO.


BERNETTE 79 YAYA HAN EDITION

The b79 Yaya Han Edition opens your world to creative embroidery. It combines a high-quality sewing and embroidery machine. The b79 Yaya Han Edition is incredibly easy to use, offers a wide range of included extras and lets you be your most creative!


BERNETTE DECO 70

The b70 DECO is a real specialist. As a pure embroidery machine, it offers everything for decorating or personalizing clothing or accessories. With over 200 embroidery designs installed the right motif is at your fingertips.